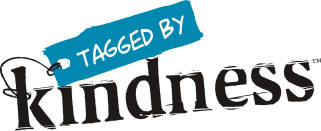 A Fundraiser MAKING A DIFFERENCE
Spread Kindness in Your School - And TRACK it!

Let Random Acts of Kindness explode in your school! Our "TAGs" allow students, teachers and families to see the difference one pay it forward good deed can make as it travels the globe. Safe, online technology tracks each uniquely identified card so your students can watch as their kindness makes a difference first in your school, through your local community and finally the globe!

Our unique fundraising model brings to your students,school and community something that people love to support. With no risk, no upfront cost, and a 40% Profit Margin, experience the new,socially conscious way to raise funds.
Pay It Forward made REAL
Visit taggedbykindness.org and watch the video

Tagged By Kindness is the cool, new school initiative that leaves your students
LOOKING for ways to be kind, generous and loving.